3 Holiday Desserts to make your mouth water!
Posted on 22 December 2016
I know they say that fruit cake is a holiday treat. If you ask me...fruitcake is holiday trash. After a delicious dinner, you don't want your guests to peg you as a "fruit cake person". Here are 3 things that you can make this Christmas to satisfy your guests sweet tooth. 
 GINGERBREAD BARS WITH EGGNOG CREAM CHEESE FROSTING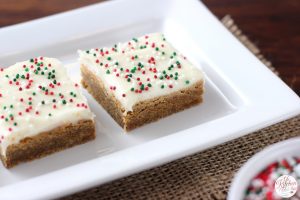 INGREDIENTS
For the Bars
½ C butter, softened
½ C sugar
⅓ C brown sugar
1 egg
1 tsp vanilla extract
3 tbsp molasses
2 C all-purpose flour
1 tsp baking soda
1 tsp cinnamon
½ tsp ginger
¼ tsp nutmeg
¼ tsp allspice
½ tsp salt
For the Frosting
4 oz cream cheese, softened
2 tbsp butter, softened
1¼ C powdered sugar
1 tbsp eggnog
sprinkles, optional
INSTRUCTIONS
Preheat oven to 350. Lightly spray a 9x9 inch baking dish with non-stick cooking spray.
In the bowl of stand mixer or with an electric mixer, cream together butter and sugars. Add in egg, vanilla, and molasses and beat until creamy.
In a separate bowl, whisk together flour, baking soda, spices, and salt. Add dry ingredients to wet ingredients and beat until combined.
Spread batter into prepared baking dish. Bake for 20-25 minutes or until edges start to turn golden brown.
Remove to a wire rack to cool.
While bars are cooling, prepare frosting. Cream together cream cheese and butter until smooth. Add in powder sugar and eggnog. Beat until smooth.
Spread frosting over cooled bars. Top with sprinkles.
CANDY CANE FUDGE
Serves 64
INGREDIENTS
16oz semi sweet chocolate chips
1 can sweetened condensed milk (14 oz)
12oz white chocolate chips
1/2 teaspoon peppermint extract
1/2 can sweetened condensed milk (7oz)
3 candy canes (chopped)
DIRECTIONS
Line a 10" square pan with parchment paper and set aside.
In a glass bowl add chocolate chips and condensed milk.
Heat in the microwave for about 90 seconds, stirring at 30 second intervals until melted and smooth.
Pour into prepared pan. In a separate bowl melt white chocolate and condensed milk.
Heat in the microwave for about 90 seconds, stirring at 30 second intervals until melted and smooth.
Stir in peppermint extract.
Pour over the chocolate layer and gently spread evenly.
Sprinkle immediately with chopped candy canes.
Chill until set - at least 2 hours.
Cut into bite sized squares.
Mini Caramel Apple Cheesecakes
Ingredients
1 cup graham cracker crumbs
2 tablespoons sugar
¼ teaspoon ground cinnamon
¼ cup butter, melted
CHEESECAKE:
2 (8 ounce) packages cream cheese, softened
½ cup sugar
1 teaspoon vanilla extract
2 large eggs, lightly beaten
TOPPING:
1 large apple, peeled and finely chopped
1 tablespoon butter
1 tablespoon sugar
¼ teaspoon ground cinnamon
Dash ground cloves
½ cup caramel ice cream topping
Instructions
Preheat oven to 350°. Line 12 muffin cups with paper liners.
In a small bowl, mix cracker crumbs, sugar and cinnamon; stir in melted butter. Spoon 1 rounded tablespoon crumb mixture into each muffin cup; press down with a narrow glass or spoon.
In a large bowl, beat cream cheese and sugar until smooth. Beat in vanilla. Add eggs; beat on low speed just until blended. Pour over crusts.
Bake 15-18 minutes or until centers are set (do not overbake). Cool in pan on a wire rack 30 minutes. Then transfer to the fridge to chill. As with most cheesecakes, they're even better the next day.
To serve, in a small skillet, cook and stir apple with butter, sugar, cinnamon and cloves over medium heat 4-5 minutes or until tender; stir in caramel topping. Spoon over cheesecakes to serve.
Enjoy your meals and family time! 
Follow us on snap chat: elle-couture
Follow me on insta: lisagueerl